Program
8.00 Opening race bag collection at the San Nazaro HARD SWIM baths
9.40 Briefing HARD SWIM
10.00 Opening race bag collection at the San Nazaro baths SMILE SWIM
10.00 HARD SWIM start
11.15 Closing time for race bag collection SMILE SWIM
11.20 Start of shuttle service from the San Nazaro bathing establishment to Boccadasse SMILE SWIM
11.50 End of shuttle service from San Nazaro bathing establishment to Boccadasse SMILE SWIM
12.15 Briefing SMILE SWIM
12.30 Departure SMILE SWIM from Boccadasse beach
13.30 Opening RELAY race bag collection at the San Nazaro bathing establishment
14.15 Closing time for RELAY race bag collection
14.20 RELAY briefing
14.30 RELAY start at the San Nazaro bathing establishment
16.00 Prize-giving ceremony
Location
For privacy reasons Google Maps needs your permission to be loaded. For more details, please see our
Privacy Policy
.
I Accept
Genova – Bagni San Nazaro (GE), 16145 Italia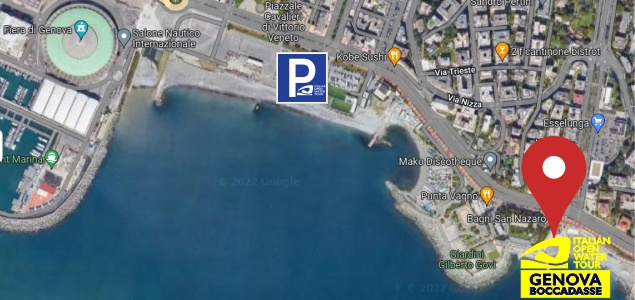 The car park is free of charge for the exclusive use of athletes registered for stage races.
To gain access, the ID number with which each athlete has registered must be placed on the dashboard of the car (it will be checked and removed at the entrance). If you do not have an ID number, you will not be granted access.
Athletes are requested to optimise their cars in order to allow everyone to park (availability subject to availability).
Parking will be available from 7 a.m. to 6.30 p.m.